Phone: 315.736.1971
Residential – Commercial
Materials & Services

New York Location
Calculator

Fred Burrows Trucking & Excavating
Fred Burrows Sr. started with just 2 tandem dump trucks and one sand mine in 1969, and since then has played an integral role in the growth of the area by supplying and delivering sand and gravel to numerous infrastructure projects around the Mohawk Valley region. 
Upon receiving his degree in Civil Engineering in 1992, Fred Burrows Jr. joined the company in 1996 and added professional excavation services and site development to the family business. Also at this time the name was changed to Fred Burrows Trucking and Excavating.
Today, the company has grown to 5 mines, 38 tri-axle dump trucks, 62 various trailers, 17 tractors, as well as dozens of excavating equipment (dozers, graders, excavators, loaders, etc.) Our loyal staff provides superior service to all of our customers.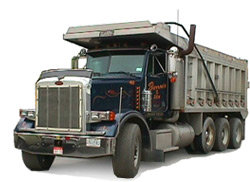 Materials
Residential – Commercial – Delivery is available Monday through Friday from 7am to 4pm, Materials can be picked up during these hours and most Saturdays from 7am – 11am. To protect your interests, we require someone at the site to verify delivery. Material can be loaded into a pickup truck or trailer at our corporate location. As a bucket loader is used we cannot load into pickups with caps or vans. All trailers must have 13" or larger tires. We accept cash or check as payment.
Crusher Run / DBG / Item #4 /
Driveway Mix
Crushed Limestone
Stone Dust
Bank Run Gravel
Item #4 Gravel
Pea or Round Stone
Screened Topsoil
Topsoil Screenings
Crushed Limestone
Bank Run Sand
Clean Sand
Screened Sand
Mason Sand
Road Sand
Salt
Salt & Sand Mix
Excavating, Site Clearing
Dump Trucking & Trailers
Equipment Rental with Operator
Heavy Equipment Moving
Grading / Site Preparation
Drainage Ditches & Grading
Excavations and Backfills
Land/Site Clearing
Water Mains and Service
Petroleum / Contaminated Soil Removal & Disposal
Sanitary Sewer Mains and Services
Septic Systems
Pond Excavation
Drainage Sloping / Grading
Water / Sewer Line Installation / Repair
Driveway Installation & Parking Lot
Commercial
Snow Plowing / Sanding
Fuel Tank Removal
Parking Lot Sweeping

Much More…